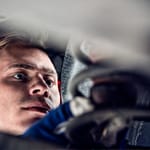 Your suspension maximizes the performance of your vehicle and absorbs the bumps in the road to provide for a smooth ride, but how do you know when there is a problem with your suspension? Thys Motor Company has answers for drivers in Belle Plaine, IA.
If you feel like your daily commute isn't as smooth as it used to be, your suspension may be the problem. Does your vehicle bounce when you hit a pothole? Does the front end of your vehicle lean downward when you use your brakes? Does it feel like your vehicle is pulling to one side when you are driving? If you answered "yes" to any of these questions, it's time to have your suspension inspected.
Shocks and struts are good for 50,000 to 100,000 miles. Wear and tear on your suspension happens a lot faster if you routinely drive on unpaved roads or roads with a lot of potholes.