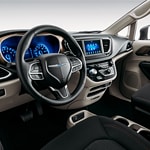 The interior of the Chrysler Voyager is modest. The car offers two options for interior coloring.
The vehicle has upholstered seats with the leather casing option, which makes the interior look classy. The other interior parts have a premium cloth and plastic finish that are of high standards, giving the vehicle a neat and modern design. The seats come in toffee hues or black. Depending on the color of the seats, the rest of the interior could either be cognac with alloy trim or black with alloy trim. The floor is carpeted, and the standard wheel comes in urethane.
The classic interior with a little option to make a few adjustments is a fair play at its price point. You can also opt for the LXI model that comes with UltraTec leatherette seats. Plus, it has advanced features that put it ahead of the standard Chrysler Voyager.