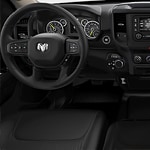 If you're looking for a vehicle that is strong and reliable, you should strongly consider purchasing the Ram 1500. The vehicle's frame uses a higher density steel that allows it to carry heavy loads without breaking or experiencing a loss of performance. The strong steel frame may also help it avoid significant damage in the event of a collision.
The Ram 1500 comes with the largest brakes in its class, which means that you can safely come to a stop even while hauling or towing items that weigh thousands of pounds. Furthermore, the brakes are designed to last several years assuming that you perform routine maintenance on them.
The Ram 1500 is likely available for lease or purchase at Thys Motor Company in Belle Plaine, IA. You can stop by our location today to take a test drive, and you can also easily schedule a test drive by phone or online.