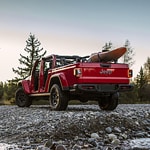 The Jeep Gladiator made its debut in spring 2019. It is a mid-sized pickup truck that can tow up to 4,500 pounds. It has a blind spot monitoring system. The system has radar-based sensors. It will be able to detect when there are other vehicles around you. It can also sense when a vehicle is getting too close to you and give you an alert.
Adaptive cruise control is another feature that will make it easier for you to drive. You will be able to go with the flow. Your driving speed and distance will automatically be adjusted. If you are getting too close to another vehicle, then it can apply the brakes if necessary.
One of the many great things about this feature is that it does not require anything from you in order to work. If you need to test drive the Jeep Gladiator, then you can contact our dealership.