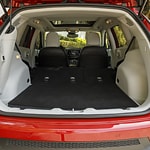 There is something appealing about a compact SUV that happens to be unusually capable when compared to the typical compact SUV. This is a feat that Jeep has managed to accomplish with the new Jeep Compass. It is not only more powerful than many small SUVs you may have seen on the automotive market but it is also the type of vehicle that regular off-road Belle Plaine, IA drivers may find enticing.
Driving a Jeep Compass will heavily benefit those who require both off-road maneuverability and dependable power. When it comes to power, that is the responsibility of a 2.4-liter Tigershark engine. Without it, the Jeep Compass would not be able to achieve a 2,000 towing capacity or 175 pound-feet of torque.
Choosing to drive a Jeep Compass Trailhawk will give local drivers even more options than either the Limited or the Sport models of the Jeep Compass. Thys Motor Company expects Hill Descent Control to be particularly well-liked by local Jeep Compass owners.