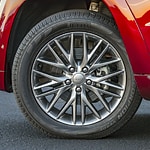 The Jeep Grand Cherokee is full of luxury and competes as one of the most reliable vehicles in the world mainly due to the durability of the engine. The Cherokee also has a gorgeous outer frame.
The first thing to notice on the Jeep Grand Cherokee is the grille that stretches from one front-end of the vehicle to the other. The grille is shiny and strong. Below the grille are LED lights. These consist of traditional lights, daytime running lights, and fog lights. Any combination of the lights can be turned on or off at any time.
The 20-inch wheels are another noticeable feature, and these wheels can be coupled with a variety of rims. You can observe the many rough grooves placed in the Jeep Grand Cherokee tires. This allows the vehicle to handle tough roads and to even travel up slopey, rocky hills.